pocono mountain paintball playing fields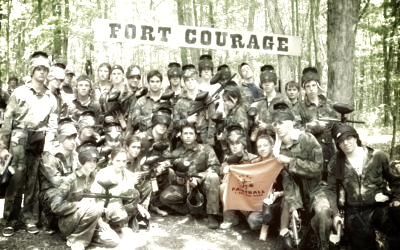 fort courage
Fort Courage, our oldest scenario field, is waiting for you. This field has been rebuilt several times over the years but it just gets better with age. The frontier style outpost offers plenty of walls, bunkers, and even a two story structure.
Trench Warefare
Trench Warfare provides fast paced, up close, adrenaline pumping action from start to finish. Fight your way through No Man's Land while weaving through over 1,700 feet of continuous trenches littered with sandbag bunkers. Capture the flag at the center of the field and then break through your opponents strong hold to win the battle.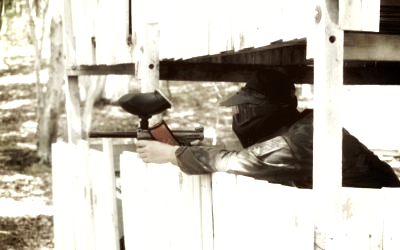 combat creek
Combat Creek is a narrow field with a small mountain spring running through its center. Start on the high ground and defend your post, or fight your way up Combat Creek to capture your opponents flag and then return to base.
kamikaze
Kamikaze's diverse terrain sets it apart from every other field at Pocono Mountain Paintabll. There are dirt mounds, a long trench, and a large horseshoe shaped hill all contained within open hard woods and brushy thickets. This field plays best with traditional capture the flag or a center hang game.
battle hill
Battle Hill is a BIG field with lots of options; you can play capture the flag or center hang, play with small teams or large teams, flank around the outside or fight your way through the center. Scattered among the trees and under brush are small barriers and log bunkers. This field is sure to please any group, large or small.
Thick & Nasty
Thick & Nasty is just that THICK & NASTY. This field is filled with Mountain Laurel, Rhododendron, Briers and Pine Trees. This field is so thick with vegetation that many players find Whitetail Deer or Ruffed Grouse hiding among the bushes. Sneak through along one of the trails or set up an ambush and wait for the enemy to walk by and then attack!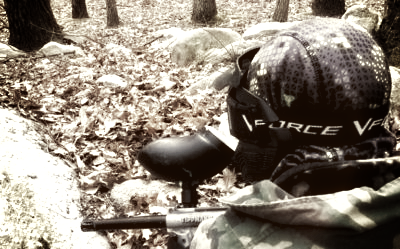 Bear hill swamp
Bear Hill Swamp has some unique terrain; there are 2 small streams, a deep wash out, a large narrow hill that runs through the center of the field and a marsh dotted with small areas covered by water. A great field for Attack & Defend or Capture the Flag.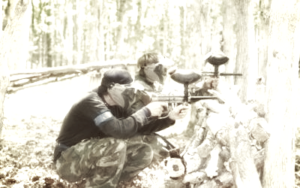 fast & furious
Fast & Furious is a smaller field on a slope which makes it perfect for an Attack & Defend Game. Charge the tree and brush covered hill or Defend your flag perched atop of it.
the farm
The Farm is a speed ball style course set in a 1 acre clearing filled with hay bails of all shapes, sizes and configurations. Play Center Hang or Corner to Corner; either will provide you and your group with fast paced exciting action from start to finish. (Coming Soon)